EIZO RX660
30" | 6 Megapixels| Color IPS
A 6 megapixel monitor ideal for viewing a variety of medical images at the same time including CR, DR, CT, MRI, and ultrasound. Featuring a new design and unique EIZO technology, this monitor offers precise medical image viewing as well as ease-of-use.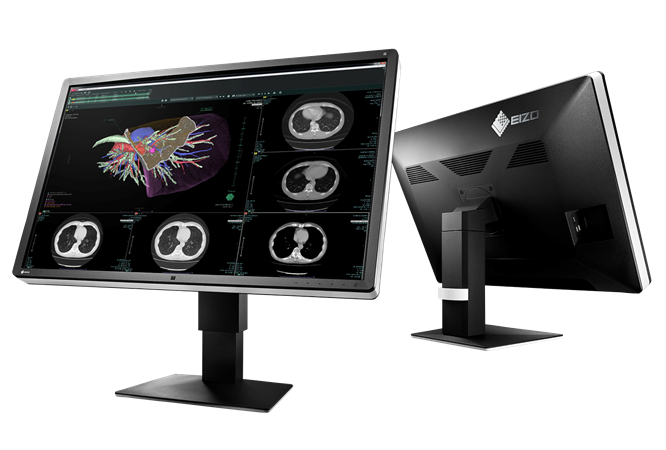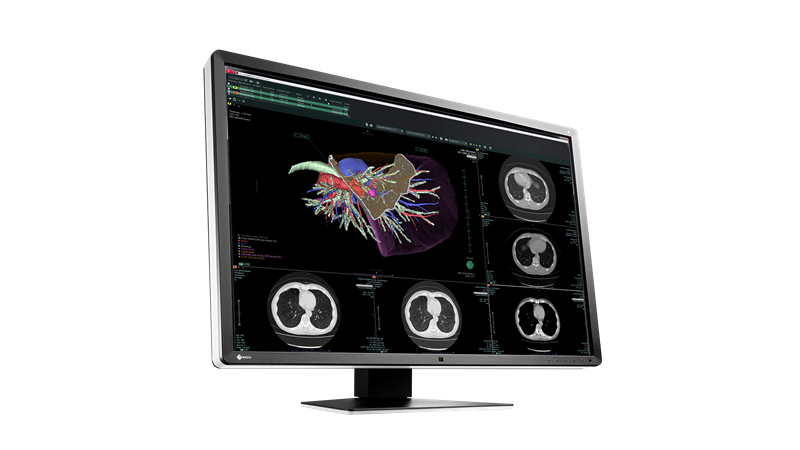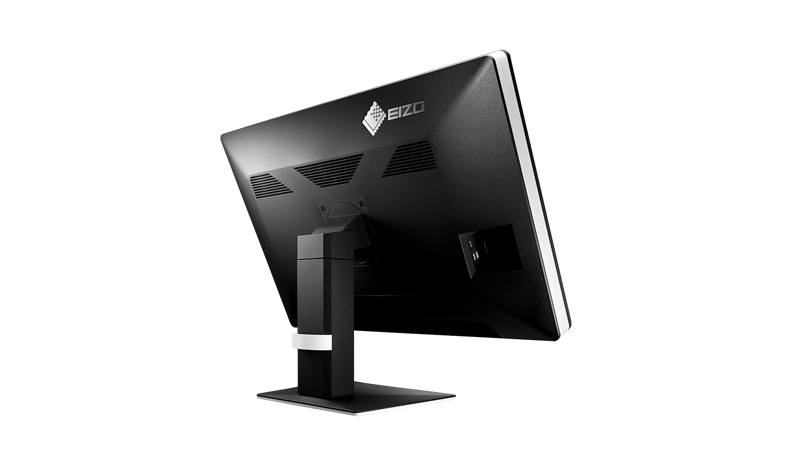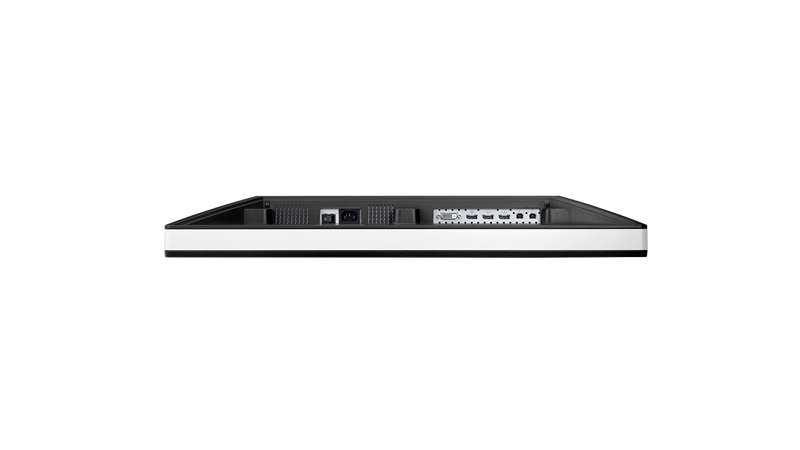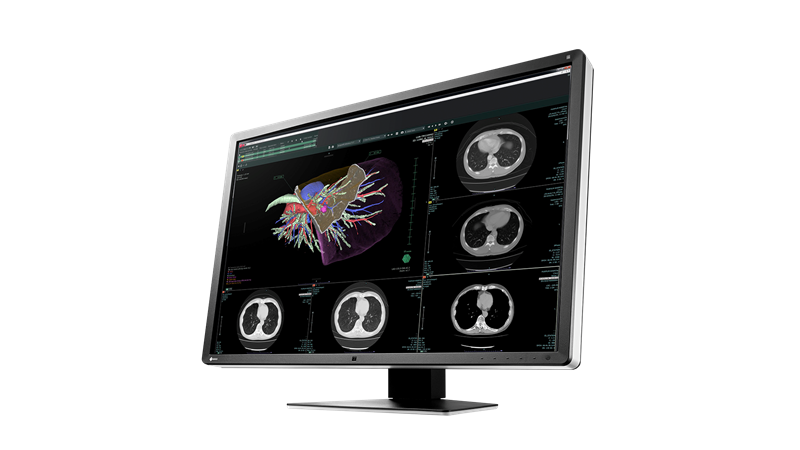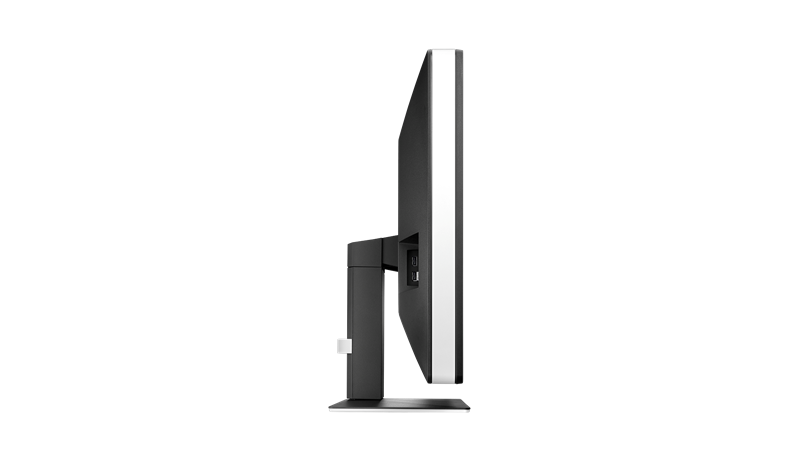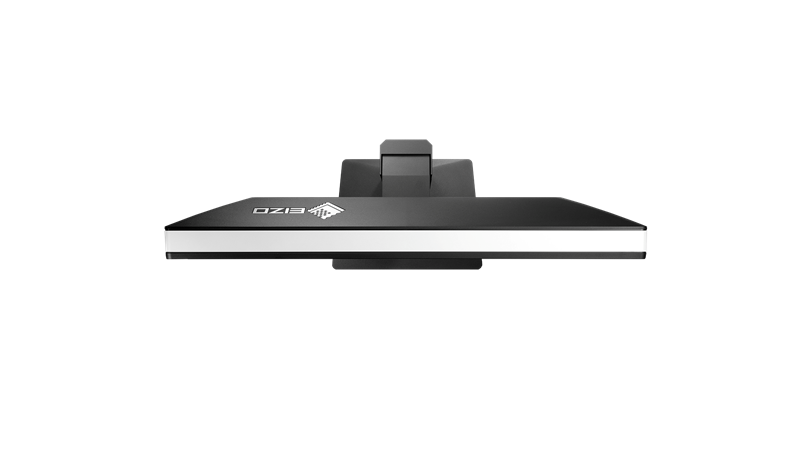 EVOLVE YOUR IMAGE READING
As more image modalities become digitalized, radiologists are viewing an increasing amount of information on their screens. EIZO's unique Work-and-Flow technology alleviates the complexity of the imaging workflow with new functions developed with the radiologist in mind. Users can take advantage of Work-and-Flow features with the RadiForce monitor and bundled RadiCS LE software.
QUICKLY PINPOINT FOCUS AREAS: POINT-AND-FOCUS
With the Point-and-Focus function, you can quickly select and focus areas of your concern with just your mouse and keyboard. Change the brightness and grayscale tones of certain points on the screen to make interpretation easier.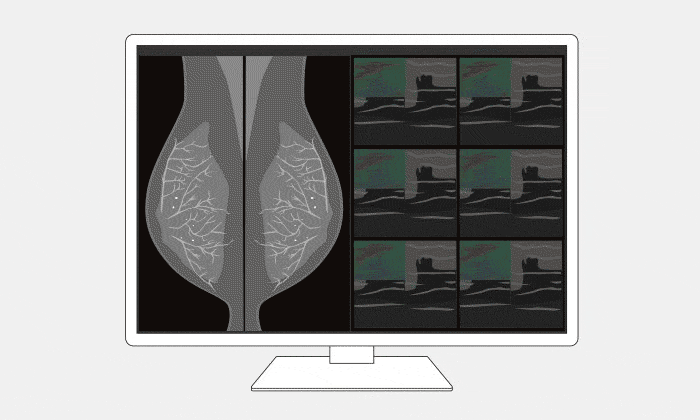 QUICK INFORMATION REFERENCING: HIDE-AND-SEEK
The Hide-and-Seek function enables users to easily hide the PinP (Picture in Picture) window not currently in use and reopen as needed by moving the mouse cursor to the edge of the screen. This eliminates the need for an extra monitor while still allowing quick and efficient viewing of reports or patient charts.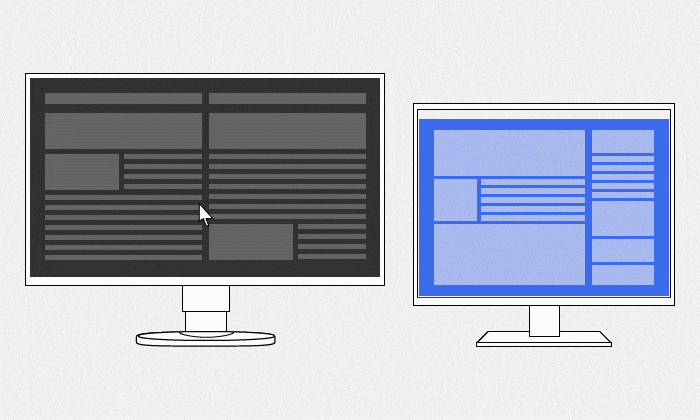 BARRIER-FREE WORKSTYLE: SWITCH-AND-GO
The Switch-and-Go function allows USB switching through the monitor, enabling the use of a single keyboard and mouse across two connected PCs.This is convenient for dual-monitor/PC environments, or when changing inputs on a single monitor connected to two PCs.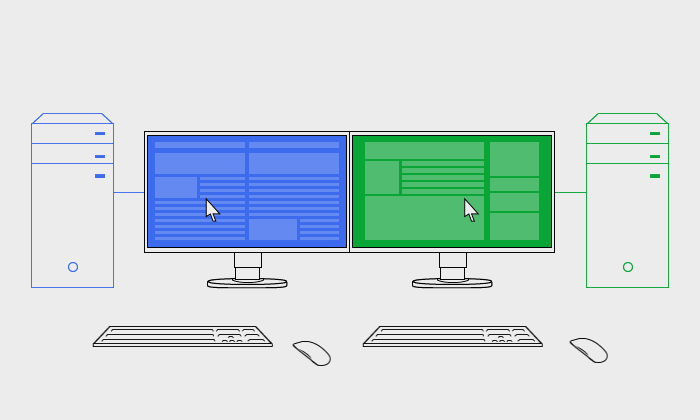 Display Both Monochrome and Color
The Hybrid Gamma PXL function automatically distinguishes between monochrome and color images pixel by pixel, creating a hybrid display where each pixel has optimum grayscale. This gives it greater accuracy and reliability than the conventional area-detection method.

As a result, monochrome images such as x-ray, MRI and CT are displayed in the ideal grayscale that corresponds to DICOM Part 14, while color images such as ultrasound and endoscopy can be faithfully reproduced corresponding to Gamma 2.2. This will improve the efficiency of viewing both monochrome and color images together on the one screen.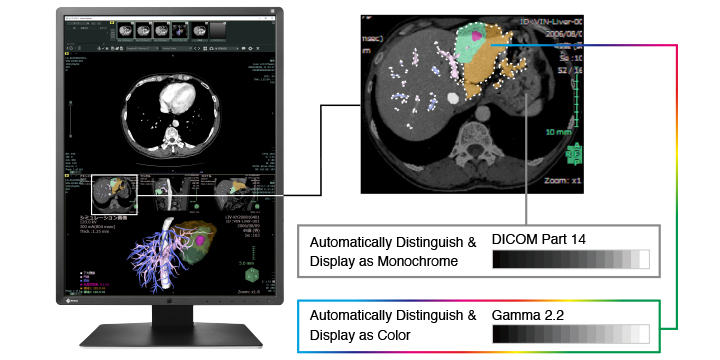 EIZO, in collaboration with the Federation of National Public Service Personnel Mutual Aid Association of Kumamoto Chuo Hospital, Japan, conducted a visual assessment of the function. As a result of comparing monitors with the function turned on and off, it was found that Hybrid Gamma PXL accurately displays monochrome images according to DICOM Part 14, and actually improved accuracy of color image interpretation.
Achieve Clarity True to the Source Data
A medical monitor needs to be capable of high brightness in order to meet performance standards. However, in order to achieve high brightness in an LCD panel, the pixel aperture ratio has to be increased. This causes a typically unavoidable decline in sharpness. With EIZO's unique Sharpness Recovery technology, the decrease in sharpness (MTF) is restored . This allows you to display an image safely on the monitor that is true to the original source data, even at high brightness levels.
MTF measures numerically how faithfully the panel transfers detail from the original image data for viewing. When Sharpness Recovery is turned on, in the case of a 2 pixel line pair (spatial frequency of 1.270 cycles/mm) the MTF increases by approximately 51%.

Create the Ideal Environment
The black front bezels are ideal for viewing the screen in dark reading rooms, making it easier to focus on images, while the original white stripe around the sides of the monitor presents a fresh, clean aesthetic.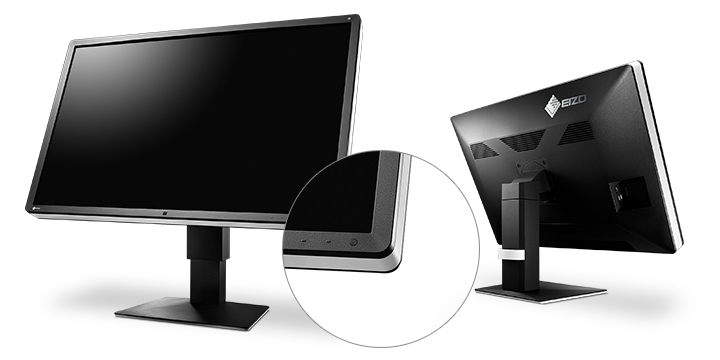 Save Work Space with Sleek Cabinet Design
Compared to its predecessor, the monitor's width and depth were reduced by 9.5 mm and 56.5 mm respectively. In addition, the size of the power supply was greatly reduced and now comes built into the monitor. This results in a monitor that takes up 23% less space, giving you more room for other tasks. It is also 6 kg lighter than the previous model for ease of installation.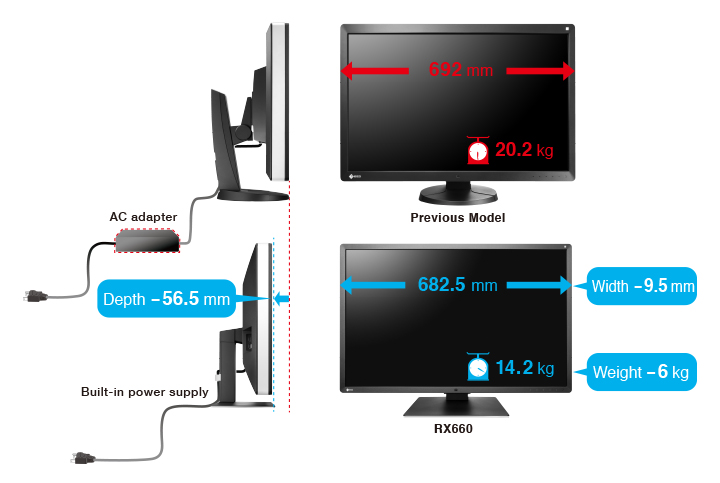 Hassle-Free Multi-Monitor Configuration
The monitor is equipped with DisplayPort 1.2 input and output terminals. Using a single cable connected to the input terminal, the monitor displays 6 megapixel resolution. In addition, using the output terminal allows you to easily configure several monitors in a daisy chain sequence without the hassle of excessive cabling.


Seamlessly View Images
The monitor is equipped with Picture by Picture (PbyP) to allow you to view input from two separate video signals on a single screen. In addition, the monitor's slim bezels offers a more comfortable multi-monitor layout for viewing images side-by-side for seamless viewing.

Variations for Specific User Needs
EIZO offers anti-glare (AG) and anti-reflection (AR) screen variations to suit user environments. AG treatment is ideal for exceptionally bright environments and drastically reduces glare from ambient lighting. AR treatment is ideal for moderately-lit environments to reduce mild screen glare while maintaining crisp text and images.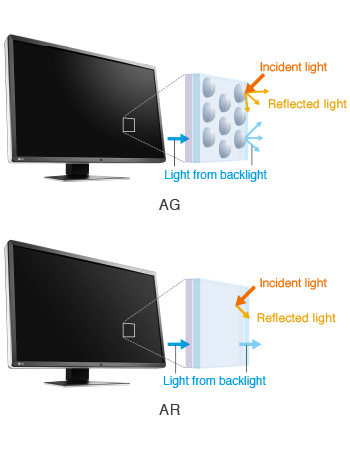 Select the Ideal Mode for Modalities
The CAL Switch function allows you to choose various modes for different modalities such as CR, CT, and endoscopy. Using the bundled RadiCS LE software, modes can be set to automatically switch to optimal image viewing conditions.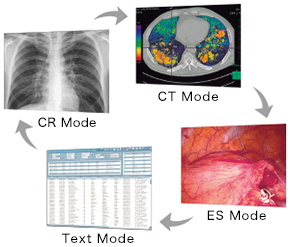 Experience Smooth Color Reproduction
The monitor supports 10-bit input for each RGB color, displaying more than one billion colors simultaneously. This ensures accurate color reproduction for 3D color rendering and image fusion.

10-bit color graphics board and 10-bit color viewer software needed for 10-bit color display.
Save on Power Consumption
The RadiForce RX660 uses a new panel equipped with an energy-efficient LED backlight which reduces power consumption by 26% compared to its predecessor. EIZO's internal measurement under RX660's recommended brightness of 500 cd/m2.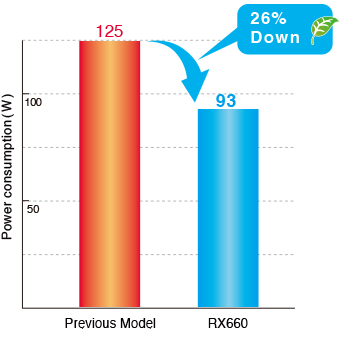 Rest Assured with Medical Qualifications
The monitors meet the strictest medical, safety, and EMC emission standards.