Mammography/Multi-modality

Breast imaging requires the ability to see fine details in dense tissue, and with the use of today's technology, breast abnormalities can be detected in the very early stages.
---
---
DPI Medical Monitor Lineup
Click on the chart to see a line-up of EIZO medical monitors that are generally sold in New Zealand.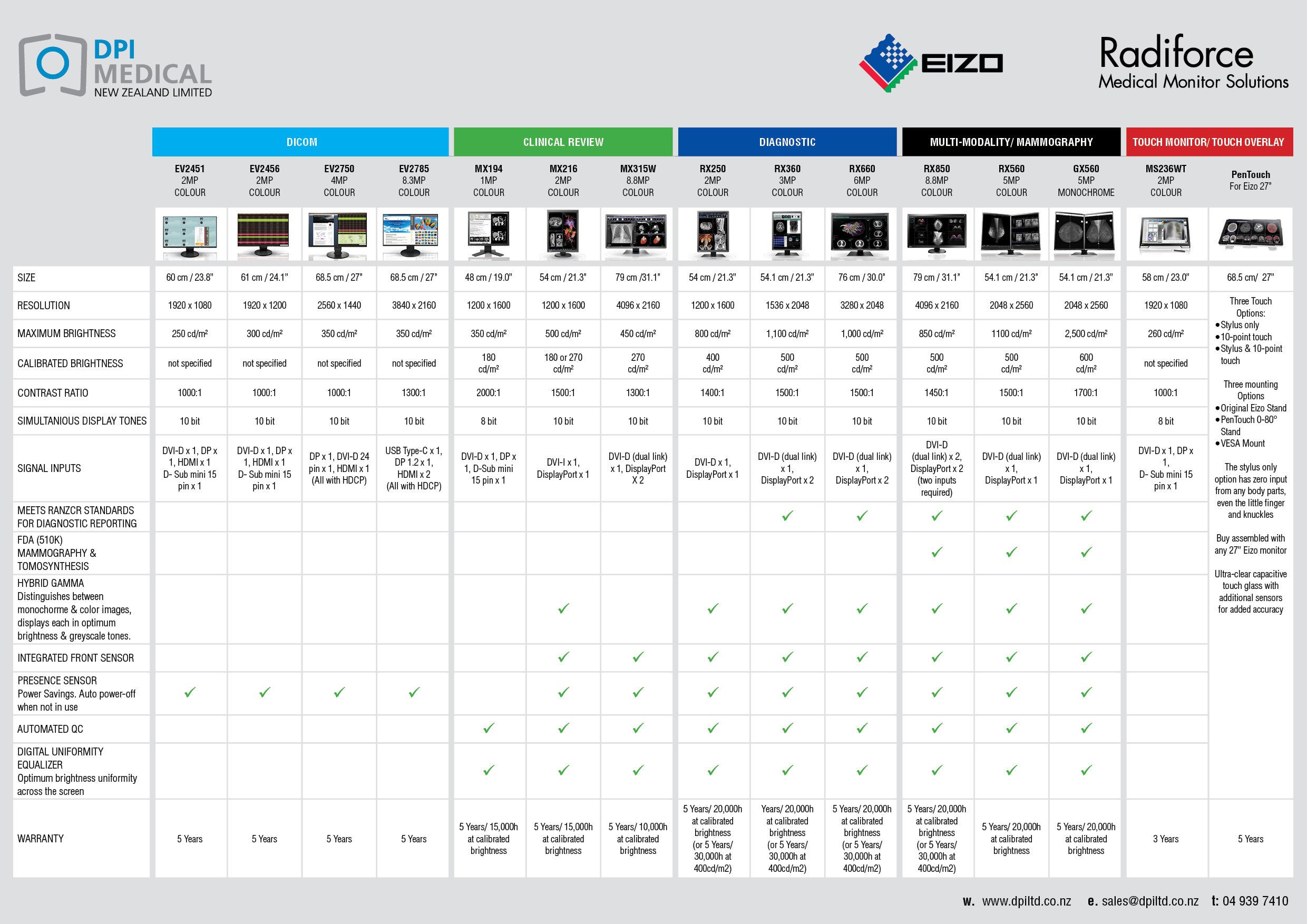 High Resolution for Breast Imaging
In order to see the fine details in dense tissue, breast tomosynthesis and mammography images should exceed 4.4 million pixels. The 5 megapixel RadiForce GX550, RX560 and 8.8 megapixel RadiForce RX850's high resolution ensures that details are preserved when viewing high volume breast images.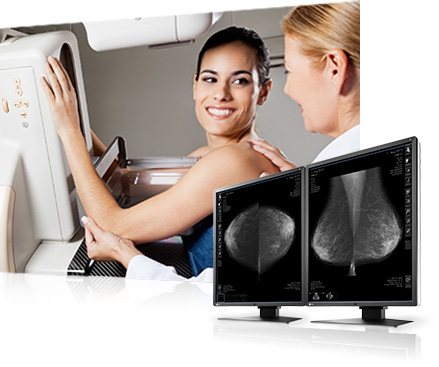 Full Color Support for Ultrasound, Breast CT and MRI
In order to achieve a more accurate diagnosis in breast cancer, a combination of mammography and ultrasound screenings are carried out. If a cancer cannot be easily detected, more precise methods such as MRI may be used. To accurately display and compare this variety of color and monochrome images, EIZO offers the RadiForce RX560 MammoDuo color monitor with dual-screen configuration.
Streamlining the Workflow with Multi-Modality
With RadiForce RX560 and RX850's multi-modality support, you can increase work efficiency with the ability to view numerous medical images on one screen in exceptional accuracy. Radiologists can also do general radiology reporting without the need to find another free work station.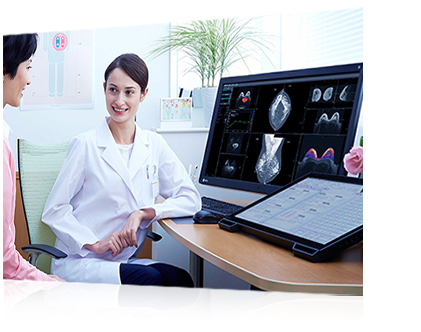 Transform Your Reading Experience
Due to digitization and improved efficiency of medical imaging devices (modalities), radiologists have experienced an overall increase in the demand for medical image reading. EIZO developed its unique Work-and-Flow function to ease the workload with a solution that addresses workflow efficiency. To alleviate the burden of increasing workloads on radiologists, the Point-and-Focus function which was newly added to Work-and-Flow, makes it easier to concentrate on interpretation and diagnosis by allowing the user to focus on specific regions of the screen.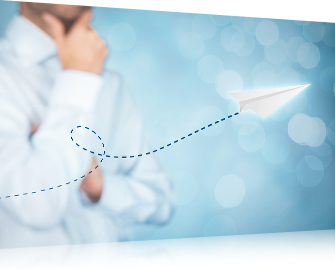 Optimized Reading Room
According to the "European guidelines for quality assurance in breast cancer screening and diagnoses," the mammography diagnoses reading room must have an illuminance of 20 lux or less. RadiLight illuminates the wall behind the monitor, providing lighting in accordance with these guidelines and also ensures that there is no reflection on the screen to interfere with your work.
EIZO DIAGNOSTIC MONITORS CASE STUDY
Read about the Pacific Radiology experience with EIZO Monitors.