CyberMed NB22/NB24
22" or 24" All In One Fanless Medical PC with Three Hot Swap Batteries for Medical Carts

Ideal for Non-Powered Medical Carts



Never Plug In Your Medical PC Again
Three hot swap batteries with a total runtime of 16 hours is ideal for non-powered carts.


Power your Printer and Barcode Scanner from the Computer
With our revolutionary power output design, you can power your peripherals directly from the medical computer. No need for an electrical outlet or a battery-powered cart.


Antimicrobial Housing stands up to Chemical Disinfection
The medical cart computers have an antimicrobial housing, an IP65 rated sealed front bezel and an IPX1 back cover making it easy to clean and disinfect.


Global

UL60601-1

/ IEC60601-1 Medical Certifications
Medical grade, and certified to be safe for near patient use. The medical cart computers were designed from the ground up to meet global medical safety standards.


6th Gen Intel Core CPU
Our medical cart computers offer the Skylake 6th generation Intel Core 3955U/i5/i7 processor series. This CPU has up to 2.5x greater performance and 3x the battery life of most computers.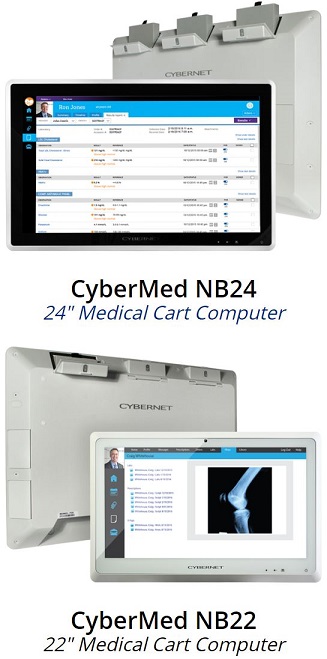 CPU Support
Core i5 , Core i7
Ingress Protection
IP65 Front IPX1 Back
See the CyberMed NB22 in Action
Watch this video to see how the unique innovations of the CyberMed NB22 helps staff spend more time on patient care and less time worrying about IT hardware. The CyberMed NB22 saves time and money, and the antimicrobial casing and fanless technology helps prevent the spread of disease.
Fanless for Sterile Environments
Our medical cart computers are fanless so they are ideal for sterile environments or where background noise is a consideration..


PCAP Multi Touch Screen
Our Medical Cart Computers have edge-to-edge tempered glass with anti-glare technology and comes standard with multi-touch technology.


VESA Mountable
Our medical computers with hot swap batteries are perfect for mounting on on carts, walls or almost anywhere with standard VESA mount options of 75mm & 100mm.


Internal RFID Security / SSO
Ensure your records are secure with Internal RFID security Imprivata OneSign (SSO).

Powerful Medical Cart Computers
Our medical cart computers are designed with Intel's® powerful Skylake 6th Generation Core™ 3955U/i5/i7 CPU and solid state technology, giving power users the performance needed to run demanding medical applications. Combined with the DDR4 RAM, which increases speed, reduces the amount of heat generated and doubles the power savings, these medical computers are ideal as a medical cart computer.
Customize your medical computer with Solid State Drives ranging from 120GB up to 1TB, and 8GB up to 32GB of DDR4 memory. At Cybernet, we can configure your medical computer with RAID level I, add more serial ports and even install your custom OS image to help reduce the deployment time and free up your IT resources.
Our CyberMed NB22 & CyberMed NB24 medical cart computers are the world's first Fanless All-in-One PCs with hot swap batteries to have the Skylake 6th Generation Intel Core CPU.
Antimicrobial /

UL60601-1

Certified
Our medical cart computers have an antimicrobial housing reducing the spread of microbes. This helps stop the spread of hospital-borne illnesses and is optimal in sterile environments. These all-in-one medical cart PCs are also medically certified to meet the requirements of UL60601-1 for electrical and radiation emissions to be safe for near patient use.
Stands up to Chemical Cleanings
Medical computers are subjected to chemical cleansers to disinfect them, often multiple times a day. Our computers are designed to stand up to chemical cleanings without damage to the medical PC.
Power Your Peripherals Directly From Your Medical Computer

Our medical cart computers are each designed to be a standalone, mobile all-in-one computer that can power itself AND directly power peripherals such as barcode printers, scanners, card readers and more. Both models offer up to 40 watts of total power through a convenient DC power output jack on the I/O coastline.
The CyberMed NB22 or CyberMed NB24 can provide a single 5V/9V/12V/20V/24V DC power output with a maximum of 40 watts peak, 26 watts sustainined.
Enjoy the freedom of using the cart, computer, and peripherals without ever having to plug in.
These are the only medical computers currently available on the market that offer the unique feature of powering peripherals directly from the computer.
Note: Please check the peripheral power requirements before plugging it into the CyberMed NB22 or CyberMed NB24 to prevent damage or injury. A peripheral requiring over 40 watts of power should not be plugged into our medical cart computers. If you have questions about what devices can be plugged into these computers, please contact us.
16 Hours of Uninterupted Runtime

The three hot swap batteries last a total of 16 hours before needing to be recharged or swapped out. That's more than an entire medical shift. Even when used with power-consuming peripherals, the batteries will last a full medical shift.
Medical staff will no longer waste their time on frequent recharges of their powered carts. Just put fresh hot swap batteries in the medical computer and it is good to go for an entire shift. One and done!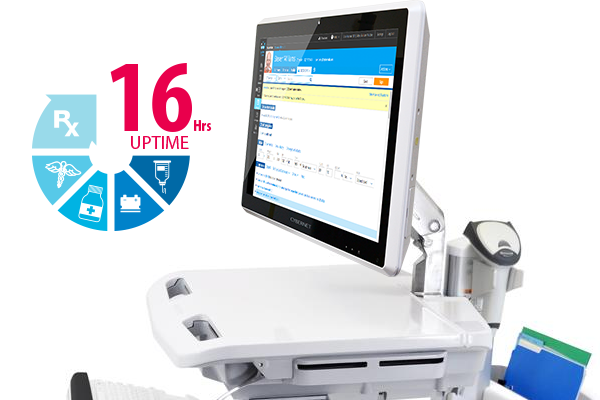 Three Hot Swap Batteries

Our medical cart computers come with three hot swap batteries and an optional 3-Bay Battery Charging Station, which charges all three batteries simultaneously as fast as four hours. The batteries will also be charged if you plug in the computer to an electrical outlet.
Designed with smart battery capacity sensor technology, our medical cart computers notify the user with on-screen information about battery health and capacity and when to replace the batteries. These medical computers can operate on a single battery while charging the other two batteries. They can also operate without batteries when plugged directly into AC.
Wireless
Both the CyberMed NB22 and the CyberMed NB24 come with Intel Dual Band Wireless-AC 7265 802.11 AC and Bluetooth 4.0 for wireless computing.
Stop Looking For An Electrical Outlet

Because these medical cart computers run on three hot swap batteries, you never need to look for an electrical outlet to run your PC or to power your cart. With the hot swap battery system, you can run our medical cart computers 24x7 without ever having to plug them in.
Multi-Battery Charging Station
Charge up to three batteries simultaneously in the charging station. It takes approximately four hours to charge all three batteries. Keep batteries charged and ready and you never have to worry about running out of power. Simply replace a depleted battery from the CyberMed NB22 or CyberMed NB24 with a charged one; put the depleted battery in the charger and you are "good to go" in less than a minute.
For Use on a Non-Powered Cart

No need to pay for an expensive powered cart. With the CyberMed NB22 and CyberMed NB24, you can use a non-powered cart and still get the power & performance of a desktop computer.
The three hot swap batteries last about 16 hours. Simply replace the three hot swap batteries when needed.
On screen pop-ups tell you when the batteries are getting low or you can check the indicator lights.
Use with the optional battery charging station and always have fully charged batteries ready and waiting.
Weighs less than a battery-powered cart so it is reduces wear and tear on your medical staff.
Industrial grade components ensures it can handle the beating that medical cart computers take 24x7.
Save Money on Operating Costs
Powered carts are expensive. The initial cost is often 5x that of a non-powered cart. The cost of replacing the cart battery is very expensive, too. Factor in downtime due to servicing them and the TCO is extremely high.
Compared to the TCO of powered carts, the cost of operation and maintenance of our medical cart computers is much less. Just not having to purchase the powered cart alone is a significant savings.
The hot-swap batteries are durable and safe – they last and let your staff get their job done without distractions, while you no longer spend money on expensive powered carts and their replacement batteries.
Mobile EMR Ready
Our Medical Cart Computers are ready to mount on any medical cart. Easily move your medical cart and computer around your facility and to patient rooms to do charting and access critical data as needed. Compatible with many EMR solutions including Epic, Cerner, PointClickCare and others. Epic, in particular, recommends a 24" All in One Medical Computer for its software. The CyberMed NB24 is ideal for use with Epic and exceeds many of Epic's requirements.
MVA LED / Embedded Privacy Filter
Our Medical Cart Computers come with a Multiple Viewing Angle LED so medical staff can better view the screen from different angles rather than just from standing directly in front of the computer.
Cybernet offers has an optional embedded privacy filter which maintains the privacy of medical records while on a medical cart going throughout the hospital.
Easy Access to SSD
Remove one screw to gain access to the hard drive / SSD.
Instead of taking the entire computer apart in order to replace a hard drive, IT can remove one screw and have instant access.
USB Ports & Legacy Ports
The CyberMed NB22 and CyberMed NB24 come with an abundance of ports including 4 USB 3.0 ports, 2 USB 2.0 ports and an RS232/422/485 port (with an option to expand to 4 COM ports).
Free Lifetime Phone Support
DPI Medical offers local or Cybernet complimentary U.S. telephone support for every product we sell, for as long as you own your product. Unlike other manufacturers, we don't charge you for telephone support after one year.


Extended Warranties
With an extended warranty, you can add an extra layer of protection to our already industry-leading warranty term. We offer extended warranties for this product: up to 5 years.


Deployment & Imaging
Send us the final drive image on a USB key or a DVD media and we'll deploy the image on every computer you purchase from Cybernet. This reduces the deployment time. Take them out of the box, plug them in and you are ready to go. We store the image on our secure servers for future purchases.

Cybernet offers the imaging service free of charge.


Remote IT Monitoring
Cybernet offers remote monitoring of your entire IT deployment through our Central Health Monitor application. This cloud based application provides a number of services, including the ability to monitor battery life in your computers and tablets, mass deploy software updates, automate routine maintenance and so much more


FREE HOT-SWAP SERVICE WITHIN NEW ZEALAND
DPI Medical is seriously committed to giving our clients a seamless and straight-forward experience with your medical computers. We hold support units in Wellington. Should there be any issues, we will immediately ship a support loan unit overnight, so that our clients can continue without interruption while the original unit is being assessed and repaired. There is no charge for this service within the warranty period, and can be added as an on-going lifetime option.