EIZO RX850
31.1" | 8.8 Megapixels| Color IPS
The RadiForce RX850 is "Changing the Workstation Paradigm" by offering a truly multi-modality monitor capable of displaying various color and monochrome imaging modalities on one screen. When efficiency is important, viewing mammography specific and PACS software applications on the same screen keeps radiologists from having to wander the halls to their next read.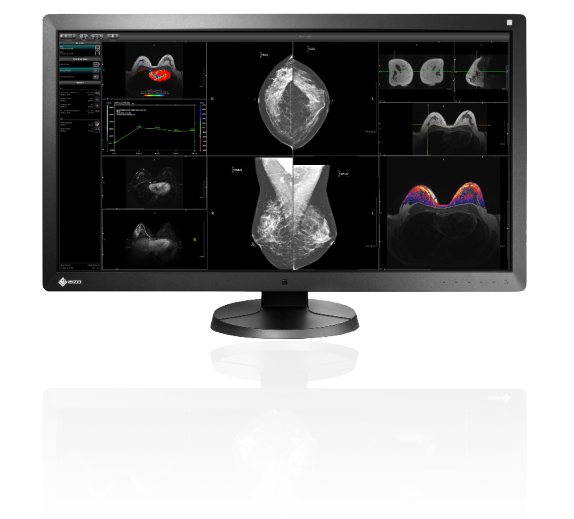 Streamline Your Workflow
Effectively replace a multi-monitor setup with an 8.8 megapixel screen capable of displaying all necessary image applications at once to streamline the radiology workflow.
Optimum Breast Screening Monitor
Having received FDA 510(k) clearance for tomosynthesis and mammography from the U.S. Food and Drug Administration, the RadiForce RX850 is not only capable of displaying MRI, CT, and ultrasound images, but also detailed breast screening images where high performance is essential. With multi-modality support, you can increase work efficiency with the ability to view numerous medical images on one screen with exceptional accuracy.
Reduce Reflections for Image Clarity
Anti-reflection (AR) coating greatly reduces reflections caused by outside light without affecting the light emitting from the monitor. This makes AR preferred over AG (anti-glare) treatments which cause blacks to appear washed out due to diffusion of the backlight. Monitors with AR coating display digital mammography, chest X-ray, and other high-resolution images with more clarity for accurate analysis.
Conveniently View Images Side-by-Side
Two screens from separate input signals can be displayed simultaneously on one monitor. The widescreen enables simple and flexible operation without obtrusive bezels in between when viewing images side-by-side.
View More Comfortably
The monitor's size was reduced to take up 37% less space than its predecessor, making viewing images on one screen more comfortable. In addition, the thin bezels contribute to less head and eye movement when used with a work list monitor.
Create the Ideal Environment
The black front bezels are ideal for viewing the screen in dark reading rooms, making it easier to focus on images, while the original white stripe around the sides of the monitor presents a fresh, clean aesthetic.
Optimize Color & Monochrome Brightness
The Hybrid Gamma function distinguishes between monochrome and color images when viewed on the same screen, displaying each with optimal brightness and tones. This expands the usability of multi-modality applications by allowing accurate review of a mix of color and monochrome images.
View Fine Details Clearly
The super high-resolution screen displays 8 megapixels of information with a pixel pitch of 0.1704 mm for viewing medical images in exceptional detail. The monitor also offers a high contrast ratio of 1450:1 to accurately render finer details.
Keep Your Monitor Lit Longer
The LED backlight offers a significantly longer service life over conventional CCFL backlights. In addition, 20,000 hours of usage time is guaranteed when used at the recommended brightness of 500 cd/m2.
Make the Precise Diagnosis
EIZO carefully measures and sets each grayscale tone to create a monitor compliant with DICOM Part 14. This ensures the most consistent shading possible, allowing for the most accurate diagnosis.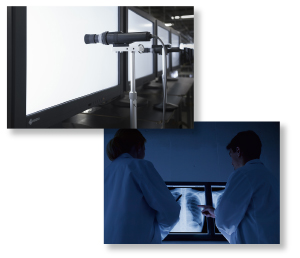 Maintain the Precision
Perform a simplified calibration compliant with DICOM Part 14 using the bundled RadiCS LE quality control software. RadiCS LE corrects the brightness and grayscale tones of the monitor to maintain image accuracy and consistency over time.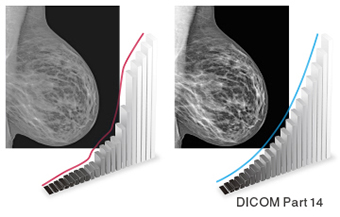 Manage Effortless Quality Control
A built-in Integrated Front Sensor (IFS) measures brightness and grayscale tones to calibrate to DICOM Part 14. The IFS does not interfere with the viewing area while in use to cut workload and maintenance costs needed for monitor quality control.

Comfortably View from Any Angle
Wide viewing angles allow you to view the screen from the side with minimal color shift, also permitting more than one person to view the monitor comfortably at the same time.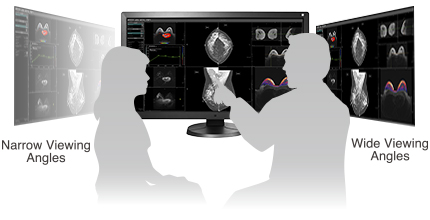 View Accurate Images in Moments
The EIZO-patented drift correction function quickly stabilizes the brightness level of the monitor upon startup or wakeup from sleep mode, giving you the most accurate images quickly ready for viewing. In addition, a sensor measures the backlight brightness and automatically compensates for brightness fluctuations caused by ambient temperature and aging for a consistently stable display.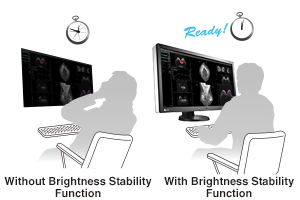 Attain Steady Images Across the Screen
The Digital Uniformity Equalizer (DUE) function helps to even out fluctuations in brightness and chroma on different parts of the screen to provide smoother images.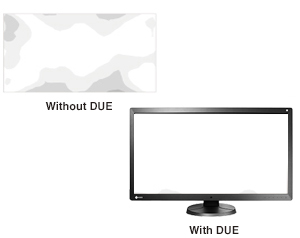 Select the Ideal Mode for Modalities
The CAL Switch function allows you to choose various modes for different modalities such as CR, CT, and endoscopy. It can be conveniently accessed using the monitor's front panel buttons to easily switch to optimal image viewing conditions.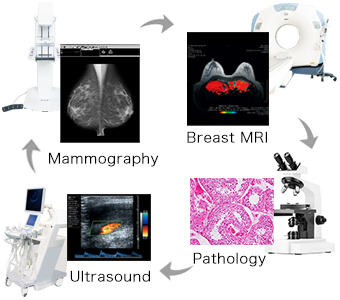 Conserve Energy While Away
A presence sensor prompts the monitor to switch to power save mode when the user is away and resumes operation upon their return to conserve power when not in use, uniting convenience with savings.
Improve Operability
EIZO's highly versatile stand offers, tilt, swivel, and a wide height adjustment range, enabling you to use the monitor with greater comfort.

Stay Confident with Stable Brightness
EIZO's confidence in its product quality extends to brightness stability which is also covered during the usage time specified in the warranty.

Rest Assured with Medical Qualifications
The monitors meet the strictest medical, safety, and EMC emission standards.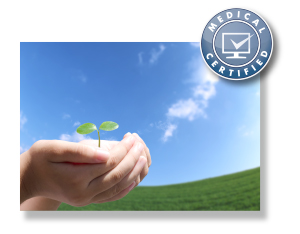 Warranty with Safety and Trust
EIZO and its authorized distributors offer a five-year limited warranty.