EIZO Screen InStyle
Intelligent Software to Work Better

EIZO's new Screen InStyle software is designed to help manage multi-monitor setups, but it can also be used for a single monitor. It is full of useful features and settings to help you get the most out of your monitor.

Features to Get the Most Out of Your Monitor
Easily Adjust Colour and White Point
Colour Briefcase
Auto Colour Mode
Multi-Monitor Power Adjustment
Synchronise Screen Adjustments
Hotkeys for Switching Input Signals/Colour Modes

Say Goodbye to Tired Eyes
Circadian Dimming

Easy In Depth Asset Management
Administrator Control

Easily Adjust Color and White Point
Easily adjust the brightness and color settings of your monitor using Screen InStyle. You can also adjust the monitor's white point to the desired RGB values. Clicking a single button to turn the monitor's background to white allows you to further check the screen's appearance and fine tune to your preference. The white background can be displayed on all connected monitors to check color adjustments across multiple screens.

Color Briefcase
This function allows you to effortlessly maintain your individual screen preferences and take them with you, even to different monitors. Your settings are automatically reflected simply by connecting your laptop to a monitor supported by Screen InStyle. This is useful in environments with hot-desking or shared workspaces, providing enhanced comfort and work efficiency.
Auto Color Mode
FlexScan monitors have multiple color modes designed for different uses. Use the Auto Color Mode to assign a color mode to turn on when using specific applications such as those for writing documents, photo viewing, creating illustrations or watching movies. When an application is opened the screen will automatically switch to the assigned color mode, making manual switching unnecessary.

Multi-Monitor Power Management
Using multi-monitor power management, you can control the power of all connected monitors just by controlling one of the monitors. You can turn the power of all connected monitors off just by pressing the power button on the front of any monitor*. Additionally all connected monitors can be turned off by double clicking the "power off" shortcut that is installed on the desktop of your OS, and turned back on with mouse or keyboard operation. If your monitor has an EcoView Sense presence sensor, all connected monitors will turn off when no presence is detected - and then turn back on upon your return.
*Monitors must be compatible with Screen InStyle and be connected via USB to a PC that has Screen InStyle installed.
Synchronize Screen Adjustments
Screen InStyle will apply any color adjustments you make to one monitor to the others on your desktop for consistent color across all screens. In addition, any changes detected by the brightness sensor of one monitor you assign will be applied uniformly to your other monitors so that brightness is synchronized.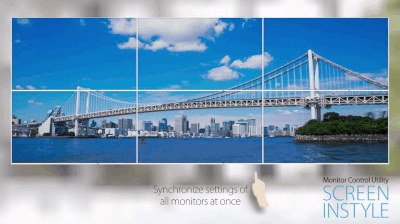 Hotkeys for Switching Input Signals / Color Modes
You can assign keyboard hotkeys to switch between color modes or input signals of two PCs connected to your monitor.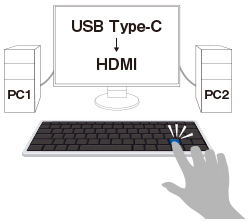 Circadian Dimming
The Circadian Dimming function automatically changes the color temperature of your monitor as the day progresses. Maintain your body's natural circadian rhythm by setting the monitor to gradually reduce blue light during the evening, helping you sleep easier.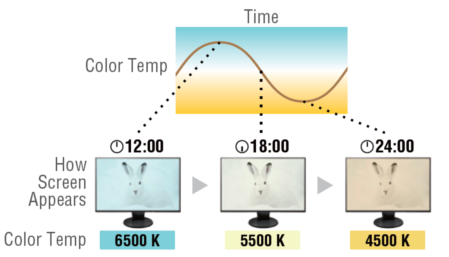 Administrator Control
Screen InStyle Server is a server application that lets a systems administrator control all monitors connected to a PC with Screen InStyle installed. This ensures optimal power saving settings in an office, trading room, classroom, or other location and helps with asset management of the monitors.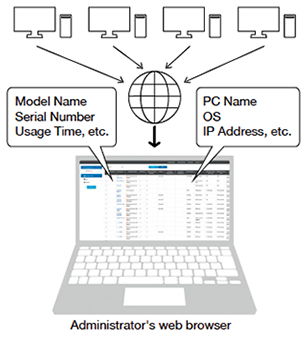 Effectively Monitor Asset Management
Screen InStyle Server is free asset management software for equipment administrators who manage a large number of monitors.
Automatically Receive Monitor and PC Information
By using Screen InStyle Server, you can automatically obtain information such as the model name and serial number (S/N) of compatible monitors on the network and display them on your web browser. In addition to the monitor, Screen InStyle Server displays information such as the computer name, OS, IP address etc. of connected PCs to manage asset information efficiently. You can also estimate when the monitors on your network will need to be replaced based off the total usage time of the monitor.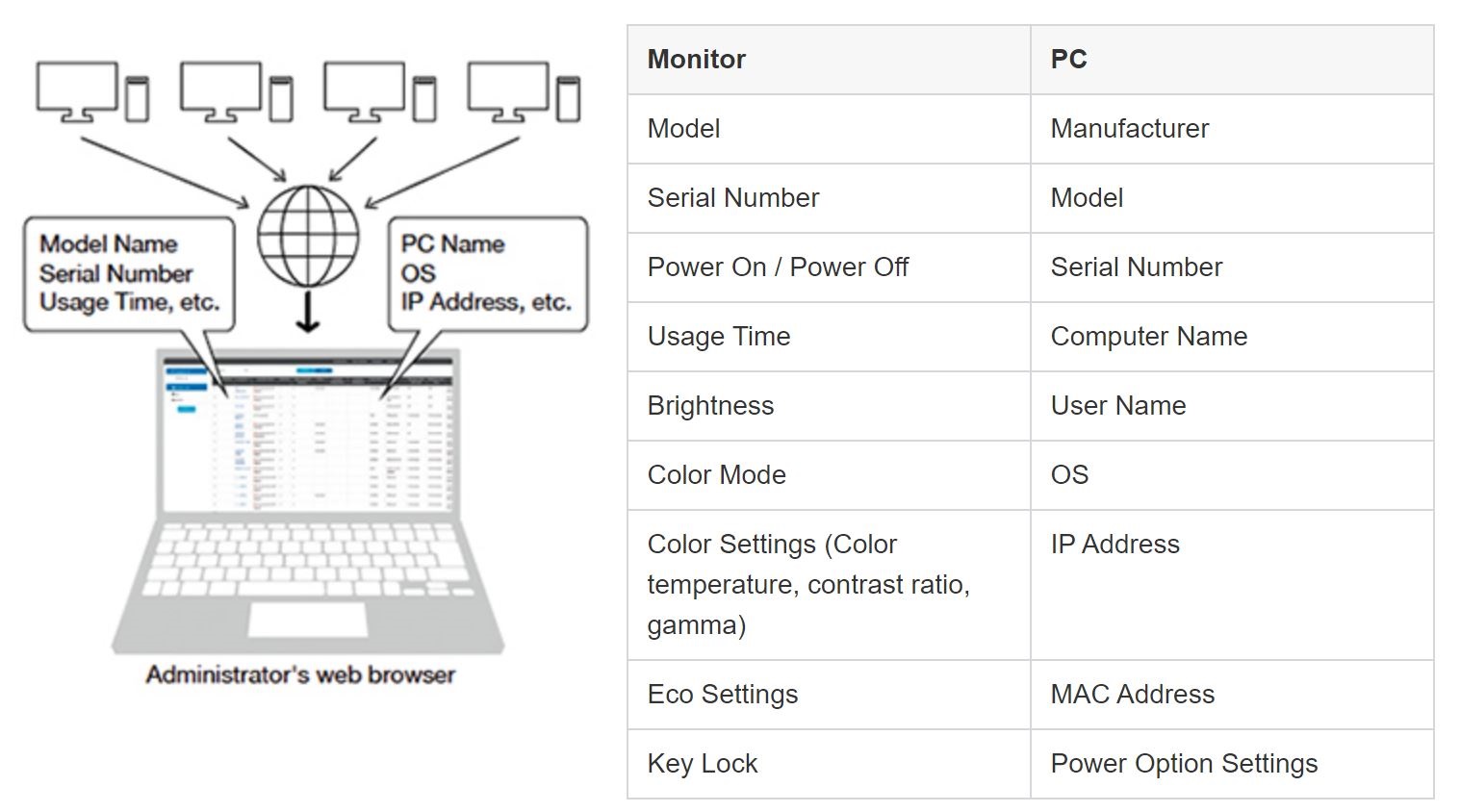 Monitor and PC information can be imported and exported to an Excel sheet. Information can be easily transmitted to another company's management software.

Optimize Monitor Settings Collectively, Even with Mass Deployment
An administrator can collectively set settings such as color mode, brightness, eco function, etc. from a remote location. By locking the operation switch of the managed monitor, it is possible to prevent unintended changes to settings.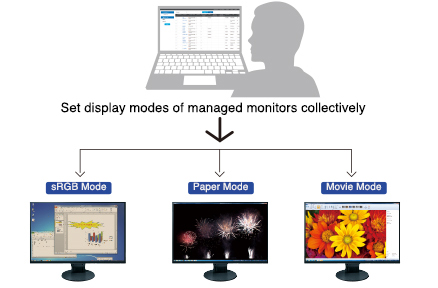 Conserve Power with Central Management
Manage various power settings of networked PCs and monitors. Set the monitor to turn off or the PC to sleep after a set period of inactivity.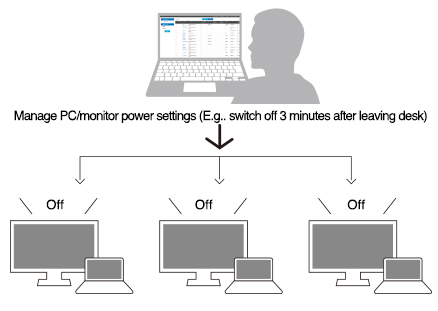 Improve Security with Automatic Locking
Improve office security by setting networked PCs to automatically lock after a certain period of inactivity. This is helpful when users forget to lock their PCs before leaving their desks.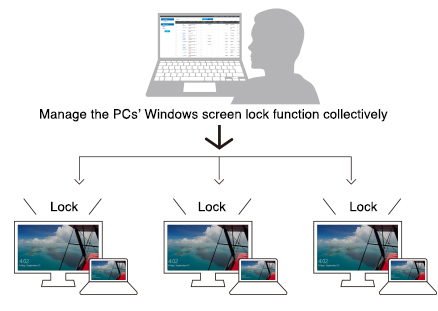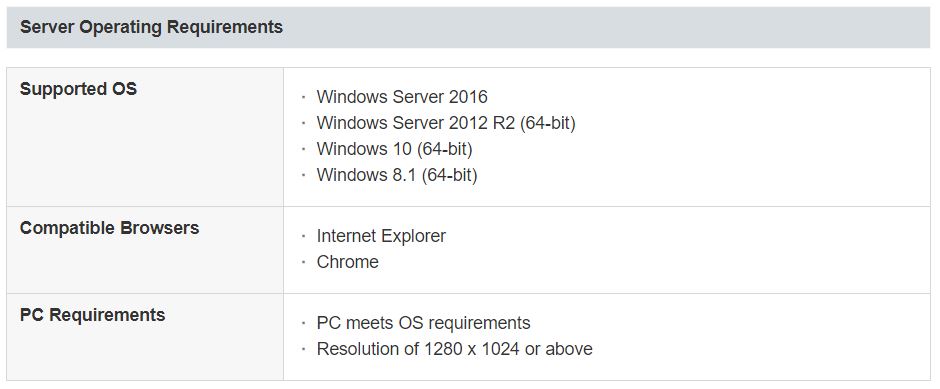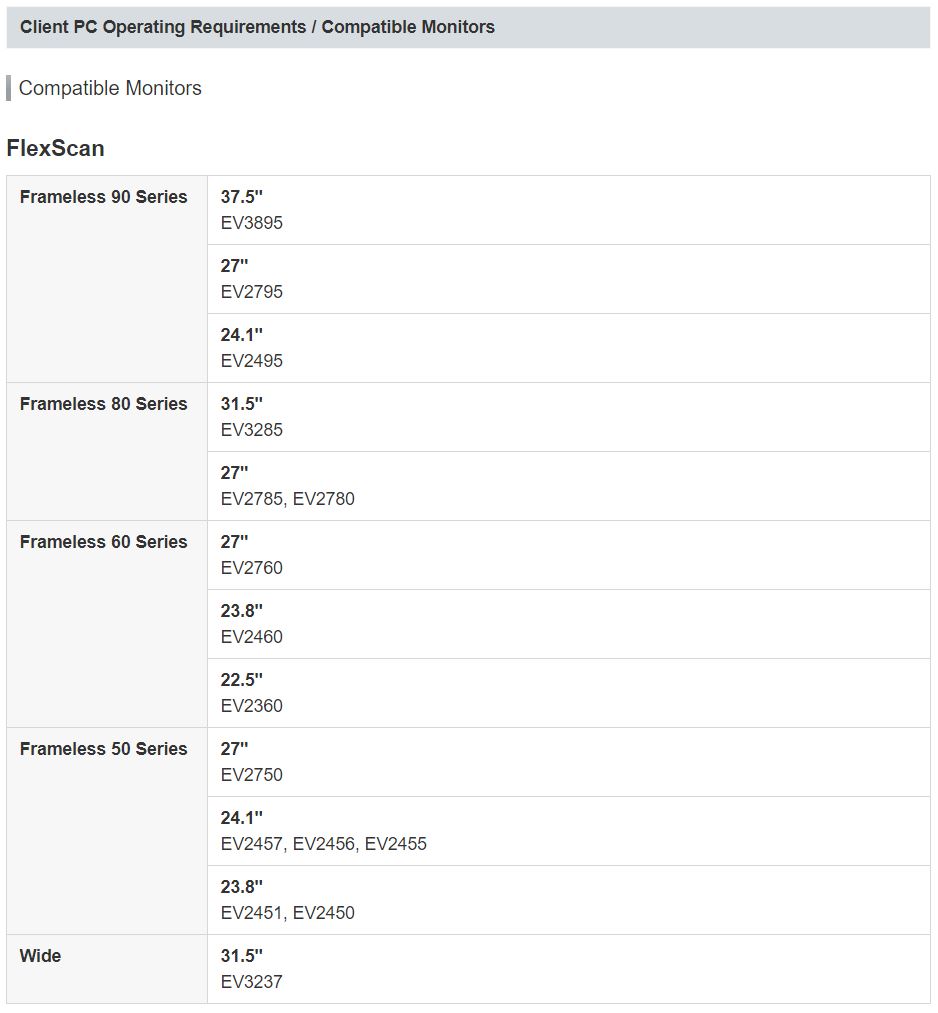 Screen InStyle Server / Screen InStyle Download